CATAC 2022
The Academy of Medical Sciences Clinical Academics in Training Annual Conference (CATAC) 2022 is being held as an in person event, with live-streamed talks, in Bristol on Thursday 19th May.
Hosted by Professor Jane Norman FMedSci and Professor John Iredale, FRSE FMedSci. GW4-CAT HP Director. The conference will include post-doctoral and pre-doctoral oral competitions, as well as poster competitions.
Details of the event can be found on the AMS website
November 2019
Cohort III 2019 PhD Starters Induction Event
An important part of our Programme's Cohort building activity is to include a fun social event. This year Team 3 and Team 5 entered into the Escape Rooms and attempted to beat the clock and Escape. Great team building and loads of fun.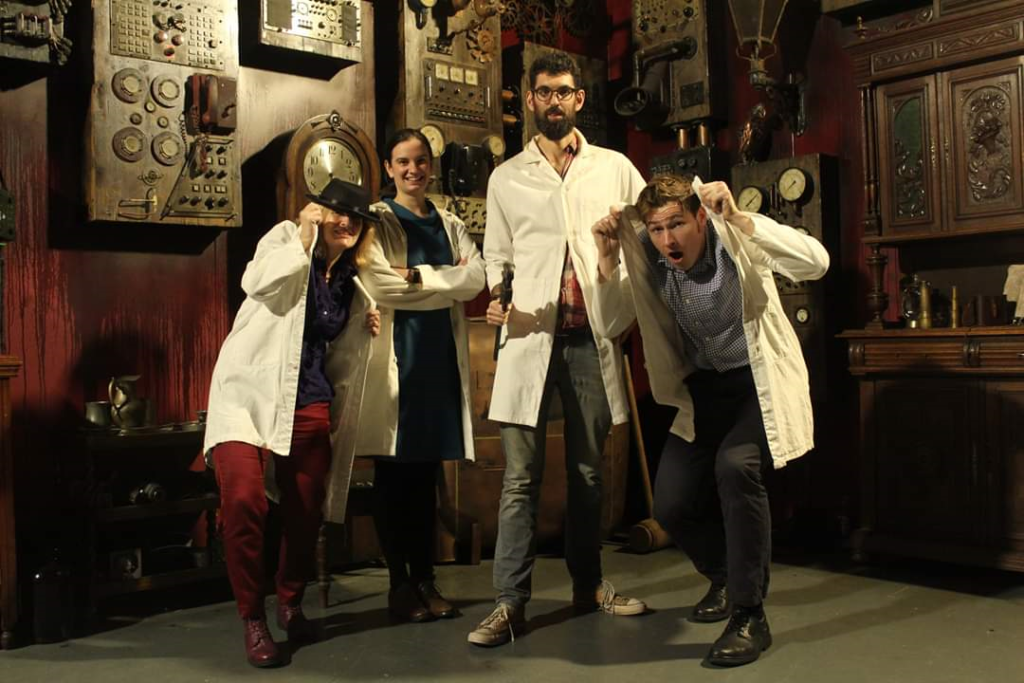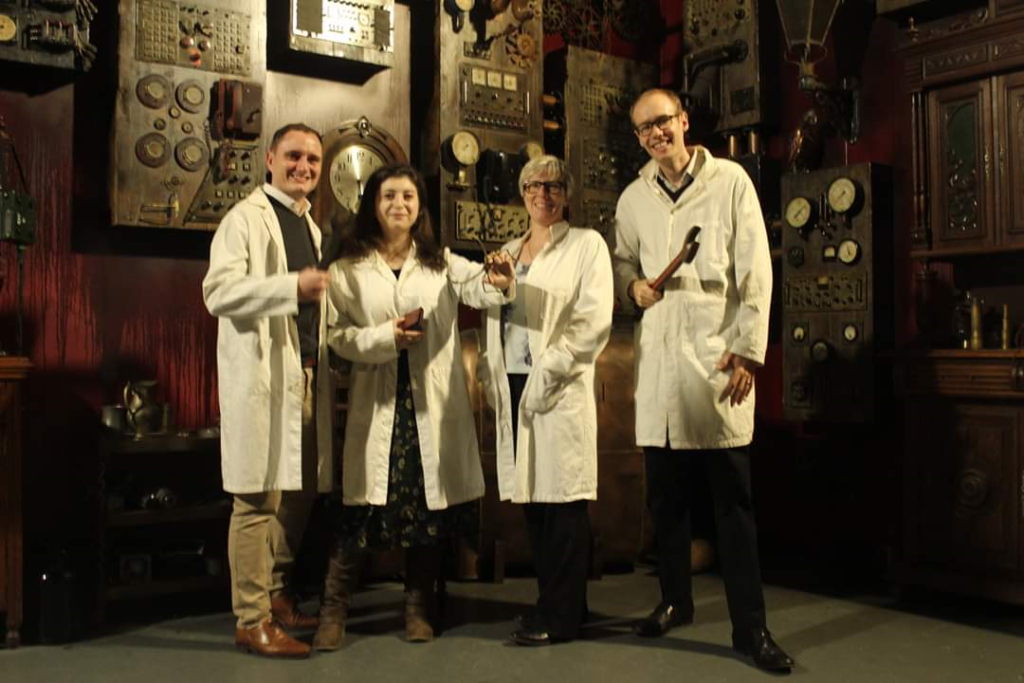 One Health Conference
On Sunday 24th November 2019 The One Health Conference in Bristol brought together young scientists from the fields of veterinary and human medicine, pharmacology, medical humanities, veterinary epidemiology, and veterinarians. This one day event was well attended and some excellent presentations were well received, including from Emily Milodowski, one of our Wellcome Trust GW4-CAT fellows. A full meeting report, prepared by Chelsie Bailey, BVSc Veterinary Science Year 3 University of Bristol, is available here Bristol-One-Health-Conference-report 2019.
Wellcome Trust, GW4 and Oxford Clinical Academics Network Meeting
The second Wellcome Trust GW4 and Oxford Clinical Academics Networking Meeting was held in Bristol on Tuesday 19th November 2019, following the success of our inaugural joint meeting in Oxford in 2018. Following a series of excellent scientific presentations from Bristol, Cardiff, Exeter and Oxford clinical fellows, drinks and dinner offered an informal setting for discussions. Medical, dental, veterinary and psychology clinicians were in attendance and Engineers House on Clifton Down offered a suitably autumnal location. For further information on the programme and a brief meeting report, see: Wellcome GW4 Oxford Network event 2019 programme and summary
August 2019
Wellcome Trust, GW4-CAT Fellow, Mr Mark Gormley Winning Paper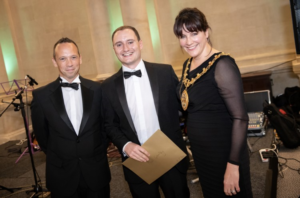 Mark Gormley was awarded first place in the open paper competition at both the British Association of Oral Surgeons (BAOS) and the Association of Academic British Oral and Maxillofacial Surgeons (ABAOMS) annual scientific meetings 2019, for his presentation on the "Lifetime number of sexual partners risk in head and neck cancer: A Mendelian randomization analysis." Well done Mark!
Poster Prize Awarded to Dr Claire Salter, Wellcome Trust, GW4-CAT Fellow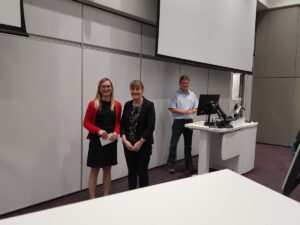 Congratulations to Dr Claire Salter whose poster was entitled 'Further delineating the phenotype associated with biallelic pathogenic variants in TPP2'. The work describes an Amish family with two children affected by a severe syndromic immunodeficiency. Claire and her co-authors performed genome-wide SNP mapping, whole exome sequencing and co-segregation studies, which identified a homozygous intragenic deletion in the TPP2 gene as the likely cause of the disorder. The poster summarised this work and reviewed the literature on TPP2, delineating genotype-phenotype correlations and potential mechanisms of disease.
The ARE, or 'Annual Research Event' is a conference put on by the University of Exeter Medical School, where all PhD students present some of their work (1st years poster, 2nd and 3rd years oral). It is attended by all PhD students, and a significant number of the senior lecturers and supervisors in the medical school.
July 2019
Success at International Meeting for Wellcome Trust, GW4-CAT Fellow, Dr Jude Harrison
Dr Jude Harrison, who is in the second year of her GW4-CAT Fellowship at Cardiff University recently attended the European College of Neuropsychopharmacology (ECNP) Early Career Neuroscientist Workshop in Nice, where she gave an oral presentation. We are delighted that Jude won one of the prizes for her presentation and the prize is to present at the 'New Findings' symposium at the ECNP Congress in Copenhagen in September 2019 where registration for the congress and 500 euros for travel are included. In addition, Jude recently applied for and was successfully appointed to the ECNP early career advisory position. Well done Jude.
November 2018
Wellcome Trust, GW4-CAT Fellow, Poster Prize at Clinical Academics in Training Annual Conference (CATAC)
Several GW4-CAT fellows attended the Academy of Medical Sciences CATAC 2018, held for the first time in the beautiful city of Edinburgh. This large annual meeting of medical, dental and veterinary clinical academics included inspirational talks from national leaders in their fields including Dr Katherine Sleeman, a NIHR Clinical Scientist and Honorary Consultant in Palliative Medicine at Kings College London, and Prof Ed Bullmore, a Professor of Psychiatry at the University of Cambridge. They gave honest accounts of the career ups and downs of a clinical academic, and invaluable advice on remaining true to yourself, maintaining work-life balance and how to ultimately succeed as an independent researcher. There were interesting podium presentations covering a diverse range of academic disciplines including obesity, leukaemia, cardiovascular disease, acute head injury, depression and twin perinatal mortality.
The day provided excellent opportunities for GW4-CAT fellows to present work and network with peers and senior researchers from across the UK. Dr Jude Harrison, was selected to give a platform presentation of her work to-date in the pre-doctoral category. Here, she drew important links between structural changes on brain imaging and Alzheimer's disease pathway-specific polygenic risk scores. Grace Edmunds, James Fasham (pictured) and Claire Salter were selected to present posters of their recent research, the latter being awarded first prize in the 'Cellular and Molecular Biology; Genetics' category.
The GW4-CAT fellows left the meeting with broadened horizons and renewed enthusiasm for collaborative research and future careers in clinical academia. This unique meeting was highly enjoyable, productive and inspiring for all, and I'm sure a repeat trip will be on the cards for 2019 with even more fascinating presentations from our GW4-CAT team!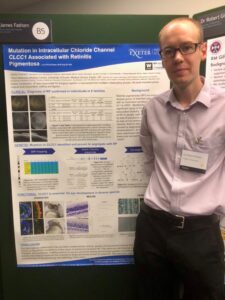 Drs Claire Salter and James Fasham, Clinical Geneticists, Exeter University. Claire has started the first year of her PhD and James is currently developing his PhD application ready for an August 2019 start.
Meet two of our Fellows at the Faculty of Biomedical Sciences at University of Bristol; Mike is a medic and started his PhD in August 2017. Emily, a vet, is developing her PhD outline to start in August 2018.
Our 2018/19 Cohort of GW4-CAT Fellows participated in their Introductory Week at the Universities of Cardiff, Exeter and Bristol. This week gave them the opportunity to consider a Primary Supervisor, a supervisory team and they are now considering ideas to build an innovative, interesting and engaging PhD outline during the next few weeks. Great Feedback was received:
"A Very well-planned week."
"Good to start with relaxed meal to meet other fellows and GW4CAT team."
"Useful to meet last year's cohort of fellows too."
"Good mix of meeting supervisors and touring facilities."
"Everyone was so friendly and welcoming throughout".
To meet our 2018/19 Fellows, please visit our Fellows page.