June 2021
Congratulations Dr Claire Salter, GW4-CAT Fellow, Winner of the Clinical Genetics Society (CGS) Conference 2021, Robin Winter Prize.
Congratulations to Claire Salter who has won the Robin Winter Prize at the Annual Clinical Genetics Society (CGS) Conference 2021 which this year was a virtual event. The Robin Winter prize is awarded to the trainee who the panel judges to have delivered the most outstanding podium presentation.
May 2021
Grant Award Success for Wellcome Trust, GW4-CAT Fellow, Mr Mark Gormley
Congratulations to GW4-CAT Fellows Mark Gormley who has been awarded a £10,000 grant from the Faculty of Dental Surgery (Royal College of Surgeons of England), to expand his cell line work "Establishing a DNA methylation profile for e-cigarette exposure in oral and oropharyngeal cancer cells".
March 2021
Congratulations to Dr James Fasham, Wellcome Trust, GW4-CAT Fellow
James has been selected by the British Society for Genetic Medicine, to receive their European Society for Human Genetics Fellowship 2021.
January 2021
Success for Wellcome Trust, GW4-CAT Fellow, Dr James Fasham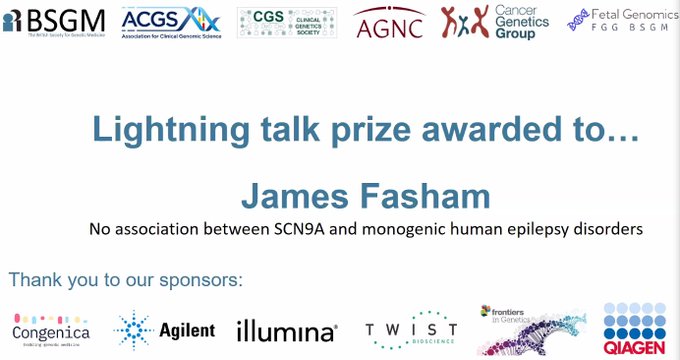 Success for GW4-CAT fellow James Fasham at the two day Joint National Meeting of British Society for Genetic Medicine (BSGM) and Association for Clinical Genetic Science, (ACGS) held virtually in January 2021.
James won the lightning talk prize – four-slides, four-minute presentation, on his work on SCN9A, which has recently been published in PLOS Genetics.
August 2019
Wellcome Trust, GW4-CAT Fellow, Mr Mark Gormley Winning Paper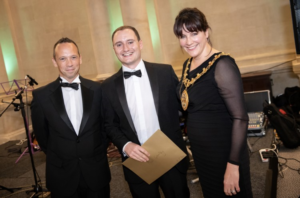 Mark Gormley was awarded first place in the open paper competition at both the British Association of Oral Surgeons (BAOS) and the Association of Academic British Oral and Maxillofacial Surgeons (ABAOMS) annual scientific meetings 2019, for his presentation on the "Lifetime number of sexual partners risk in head and neck cancer: A Mendelian randomization analysis." Well done Mark!
Poster Prize Awarded to Dr Claire Salter, Wellcome Trust, GW4-CAT Fellow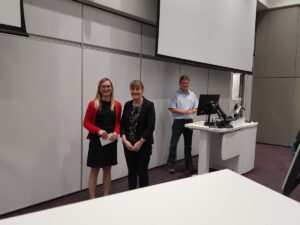 Congratulations to Dr Claire Salter whose poster was entitled 'Further delineating the phenotype associated with biallelic pathogenic variants in TPP2'. The work describes an Amish family with two children affected by a severe syndromic immunodeficiency. Claire and her co-authors performed genome-wide SNP mapping, whole exome sequencing and co-segregation studies, which identified a homozygous intragenic deletion in the TPP2 gene as the likely cause of the disorder. The poster summarised this work and reviewed the literature on TPP2, delineating genotype-phenotype correlations and potential mechanisms of disease.
The ARE, or 'Annual Research Event' is a conference put on by the University of Exeter Medical School, where all PhD students present some of their work (1st years poster, 2nd and 3rd years oral). It is attended by all PhD students, and a significant number of the senior lecturers and supervisors in the medical school.
July 2019
Success at International Meeting for Wellcome Trust, GW4-CAT Fellow, Dr Jude Harrison
Dr Jude Harrison, who is in the second year of her GW4-CAT Fellowship at Cardiff University recently attended the European College of Neuropsychopharmacology (ECNP) Early Career Neuroscientist Workshop in Nice, where she gave an oral presentation. We are delighted that Jude won one of the prizes for her presentation and the prize is to present at the 'New Findings' symposium at the ECNP Congress in Copenhagen in September 2019 where registration for the congress and 500 euros for travel are included. In addition, Jude recently applied for and was successfully appointed to the ECNP early career advisory position. Well done Jude.
November 2018
Wellcome Trust, GW4-CAT Fellow, Poster Prize at Clinical Academics in Training Annual Conference (CATAC)
Several GW4-CAT fellows attended the Academy of Medical Sciences CATAC 2018, held for the first time in the beautiful city of Edinburgh. This large annual meeting of medical, dental and veterinary clinical academics included inspirational talks from national leaders in their fields including Dr Katherine Sleeman, a NIHR Clinical Scientist and Honorary Consultant in Palliative Medicine at Kings College London, and Prof Ed Bullmore, a Professor of Psychiatry at the University of Cambridge. They gave honest accounts of the career ups and downs of a clinical academic, and invaluable advice on remaining true to yourself, maintaining work-life balance and how to ultimately succeed as an independent researcher. There were interesting podium presentations covering a diverse range of academic disciplines including obesity, leukaemia, cardiovascular disease, acute head injury, depression and twin perinatal mortality.
The day provided excellent opportunities for GW4-CAT fellows to present work and network with peers and senior researchers from across the UK. Dr Jude Harrison, was selected to give a platform presentation of her work to-date in the pre-doctoral category. Here, she drew important links between structural changes on brain imaging and Alzheimer's disease pathway-specific polygenic risk scores. Grace Edmunds, James Fasham (pictured) and Claire Salter were selected to present posters of their recent research, the latter being awarded first prize in the 'Cellular and Molecular Biology; Genetics' category.
The GW4-CAT fellows left the meeting with broadened horizons and renewed enthusiasm for collaborative research and future careers in clinical academia. This unique meeting was highly enjoyable, productive and inspiring for all, and I'm sure a repeat trip will be on the cards for 2019 with even more fascinating presentations from our GW4-CAT team!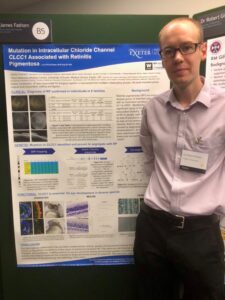 Drs Claire Salter and James Fasham, Clinical Geneticists, Exeter University.  Claire has started the first year of her PhD and James is currently developing his PhD application ready for an August 2019 start.